World Champion – Light Heavyweight Boxer
John came to see me at the Buckinghamshire Golf Club. His spoke to me about his son James however said it's hard to take advice off your own son (James was a Pro standard player at the time).
Being a very built up athlete, John had problems rotating from his hips and was in turn used his arms too much to hit the ball. It was tough trying to get him not to try and "find the ball" with his arms and hands and to be fair to John he understood it very quickly.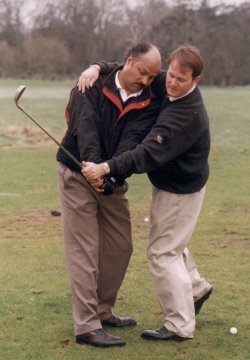 Working with John was also great fun. Not only a Heavyweight Champion of the World, but honestly one of the funniest people I have ever coached. Joke after joke and really great to be around. When I asked him about "Rotation" he said that he thought rotation was a horse running in the 2.30 at Lingfield Park!
Rotation, Rotation, Rotation
Fixing Conteh
In his swing John was one of very few people who I asked not to start the downswing with a lateral bump of the hips as he really did have too much lateral sway into the ball which left his upper half and arms behind. I asked him to really feel a rotation coming down so his upper half could fire through thus really utilising his body strength to his advantage.
Not surprisingly after his boxing, John Conteh has carved out a brilliant career for himself as an after dinner speaker, and one that I would say he certainly packs a punch!