WHY GUESS ANYMORE ?
"A philosophy blending the use of scientific and creditable data obtained from the very best systems rather than relying on an educated guess or subjective opinion, combined with extensive knowledge of how to simplify those facts to the pupil at the exact level needed is by far the highest skill you can ever posses as a coach. It is how I have seen all the World's very best operating".
In my career and whilst working closely for many years with Dennis Sheehy/ David Leadbetter, I have been privileged to coach, help coach, study, advise, work alongside and play with some of the World's best players including Seve Ballesteros, David Frost, Vijay Singh and Stephen Ames as well as Tournament winners and Ryder Cup stars like Phillip Price, Paul Way, Howard Clark and Per Ulrik Johansson. Additionally I have vast experience of coaching top lady Professionals having coached winners on the Ladies European Tour. Ultimately I have travelled to all four corners of the World experiencing, teaching and delivering at the highest level, all the very latest techniques and trends.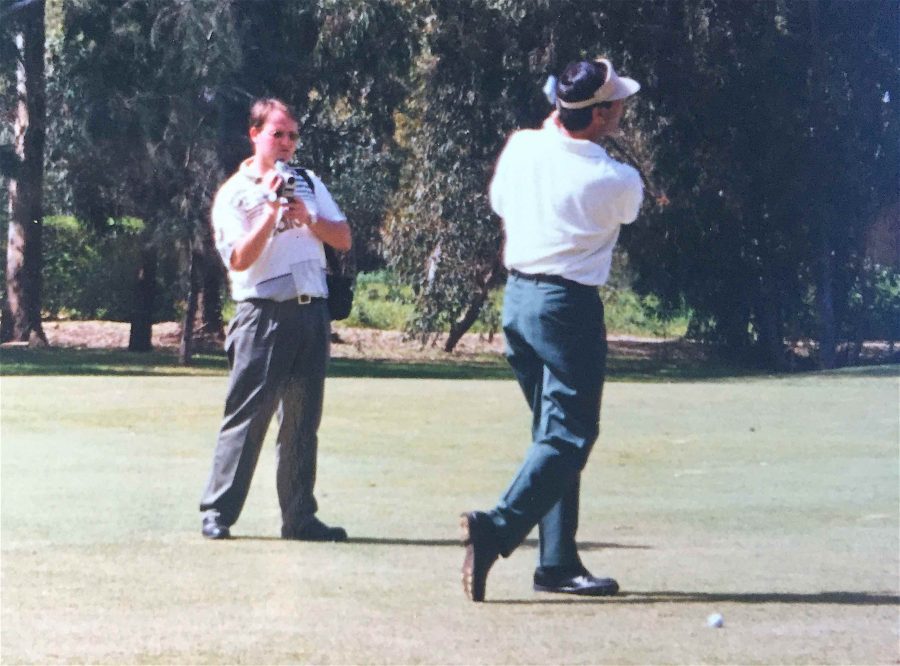 Ian coaching on Tour with Legend Seve Ballesteros
My beliefs are not based around a "One size fits all method" and I am definitely not the "My way or highway kind of coach" and I learned years ago that people, whether be it adults or children, historically do not fit into a "System" either. I believe the highest skill you can posses as a coach is to objectively evaluate what you actually see in front of you. That's how I've seen the World's best operating, however in many cases golf teaching can be a series of instructional guesses and leading people into generic systems that help very few.
What has stuck with me from 30 years of exposure to Tour coaching with all kinds of specialists, is really a blend of high level coaching applied with the very latest Tour trusted factual data. Having the facts for me is stronger than subjective opinion and really gives you the perfect platform to go forward from. As we say "Why would you ever try and guess what you can now factually measure" and also we know that watching a video of your swing tells you very little about why things happen as  "movements viewed in 2D are not time, space or speed related" so what we effectively  "Think" we see is not telling us what is always "actually happening" the very same way your "Feel doesn't equal Real" scenario.
Whether I am at the Masters in Augusta, The Open at St.Andrews, The Ladies Masters in Dubai, or in the middle of a driving range with an amateur or working with junior golfers, the one thing I do is always give the same level of attention to everyone. Everyone's game is important to them so it is more than important to me. Here on this site you will find out more about my ideas on current trends I use like Trackman and 3D Bio learning as well as my teaching philosophies and some useful information on how to improve your golf. So your golf improvement definitely starts here and I hope to see you soon at one of my golf schools in the UK, Switzerland, New Zealand, Greece, UAE or South Africa.