Portuguese Presdient
I was very honoured to teach the Portuguese president at the 1998 Portuguese Open and what an entertaining man he turned out to be. Seve Ballesteros had told me that we would have Jorge (Mr President) in our group for the Pro-Am and would I take a look at his swing. Not in my nature to argue with Seve so of course I did.
Jorge was fantastic, a great guy and he asked me if I liked football? I replied "Of course I do Mr. Presdient however you will not know my team." Sampaio replied "Try me" to which I proudly said "Queens Park Rangers." Within a flash he said he remembered well the great team of the 70's as he himself was in fact a Leeds United fan.
We spoke about football and the great Leeds team and he knew all the players like Bremner and Peter Lorimer too. At one stage walking down the fairway two blonde ladies had asked me if they could have their picture taken with Seve after the game. "Sure" I replied, to which they then crept onto the fairway and were now just 5 or 6 metres away from me, The President and Seve himself.
Then just as Seve was about to hit a shot one of the women distracted him and he turned round and gave me the famous Seve stare. I was mortified when he said "Ian, who are these women, and why they are on this fairway." However before I could answer Seve said "Ian, you know, the ladies they can come into to kitchen but they are not allowed into the living room." He then turned and played his shot, Jorge laughed, Cameron the caddy was in hysterics and I ushered two very embarrassed ladies back over the ropes.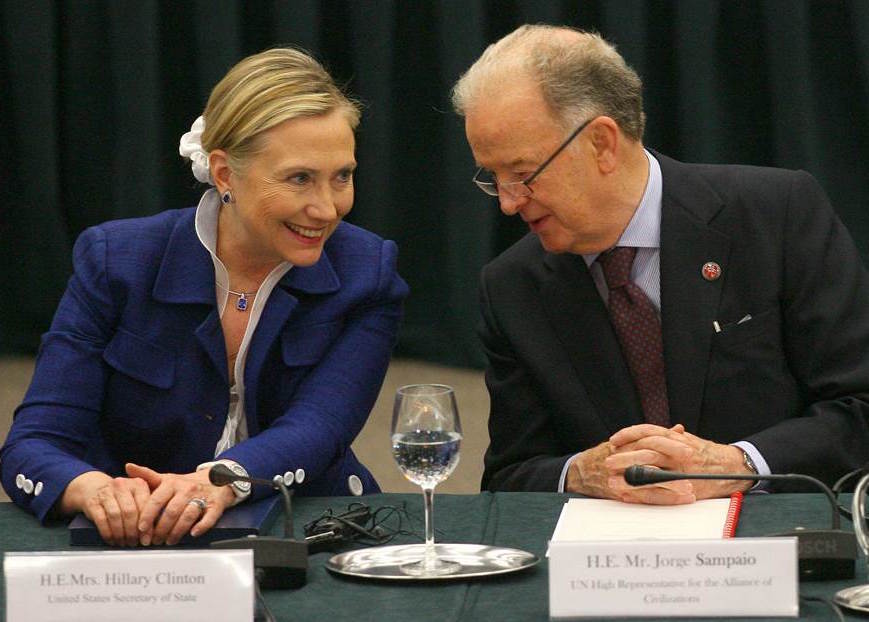 As for Jorge Sampaio's swing, he was an ok golfer with the all too common complaint of not being able to really turn, wind up and get much distance however he told me he loved his Golf and was very fond of the UK.