A lonely place but where is "Rummy"?
Seven under par !! Yes, I repeat, seven under par. Nothing too spectacular about that I hear you say, although for once this wasn't an individual round, no, not at all it wasn't . What it transpired very quickly to be, was the realisation that this was set to be the lowest under par score for any cut that the Asian Tour or possibly any other Tour had ever seen. Honestly its not like these were two easy golf courses either, It's just the standard was phenomenal.
I can see the historians and statisticians out there asking yourselves if this is indeed the lowest cut line in history?  I can't hand on heart tell you it is, however having been involved in Golf for 46 years now I can assure you I have never heard of a lower cut in my entire golfing life, so I would hazard a guess and say it almost probably is.
I write this article in the hope that all you would be Professionals playing off scratch, plus 1 and even plus 3 or 4 have a good read of this and maybe, just maybe a little bit of realisation may set in as to 1) How good you have to be, and 2) just how hard these players are now working. Golf is not a pleasurable pastime for these guys, no its most certainly a high end business and they work exceptionally hard, take my word for it. I do not write this article to put any of you off trying, far from it, no I scribe this article so as you can gain a sense of perspective as to what is duly required.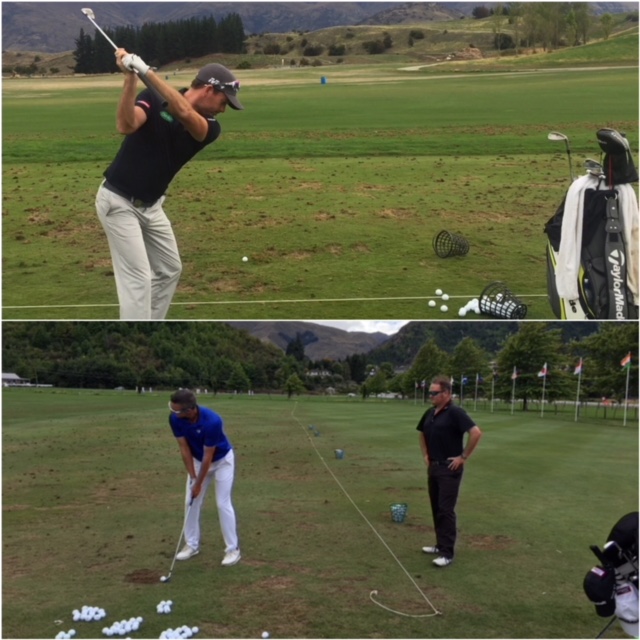 After 1st Rounds of 66 (-6), my 2 players Paddison & Geary both had Sunday to practice!
Last year, I asked a golfer, who so many people consider to be an absolutely brilliant amateur,  if they realised how good they had to be to make it on Tour. I kind of questioned them and the answer came back as a resounding Yes, of course they did. I then asked that person to quantify why they considered themselves good enough to play Tour golf. I didn't even get onto the topic of actually making a living out of the game we just spoke purely about just playing on Tour. I have to say our views differed somewhat slightly on what was considered "Good enough for Tour."
Having had the huge privilege of standing first hand behind Vijay Singh and watching him pound ball after ball into the distance, I do know how good you have to be. Watching the great Seve Ballesteros hit and name every shot to order when I coached him was absolutely incredible, making me realise how good you have to be. Watching Phil Price when I coached him, play against Phil Mickelson in the unbelievably pressured last day singles of the Ryder Cup and win, I realised again just how good you really do have to be. However more recently being absolutely mesmerised and completely stunned by the knowledge and short game of Brett Rumford (And I really thought I had seen it all !!) it absolutely hammered home to me just how good and well versed these players are.
Without blowing "Rummy's" own trumpet here (As he's an incredibly unassuming guy), but he had just given me by far the biggest golfing education of my complete golf teaching career and Min Woo Lee's was still about to come (see later). When I left after spending an hour with Brett Rumford I was left in a complete daze. I was so stunned,  I even forgot my blue plastic cup of tea and my trackman as I walked off and I have never ever done that in my life. I can't actually even remember walking back into the clubhouse or indeed who I passed along the way. All I could think of was what I had just witnessed. Even the great Seve Ballesteros didn't teach me that, and again it went only to reiterate to me just how far away this plus three handicapper was.
In the last couple of years some people have come up to me and challenged me citing that at times I can be rather negative and others say that I am incredibly hard on players. I do feel that's a relatively harsh criticism, I like to view myself as more of a realist and a realist that has a pretty good handle on what is needed to make it. There are as many opinions as there are people (Not my quote), however it's only the informed opinions that I really do take notice of. However as much as I try to be a glass half full person I do believe I am in quite a unique position to genuinely deliver a pretty accurate appraisal of if someone has "got it" in them to play on Tour and then actually make a living.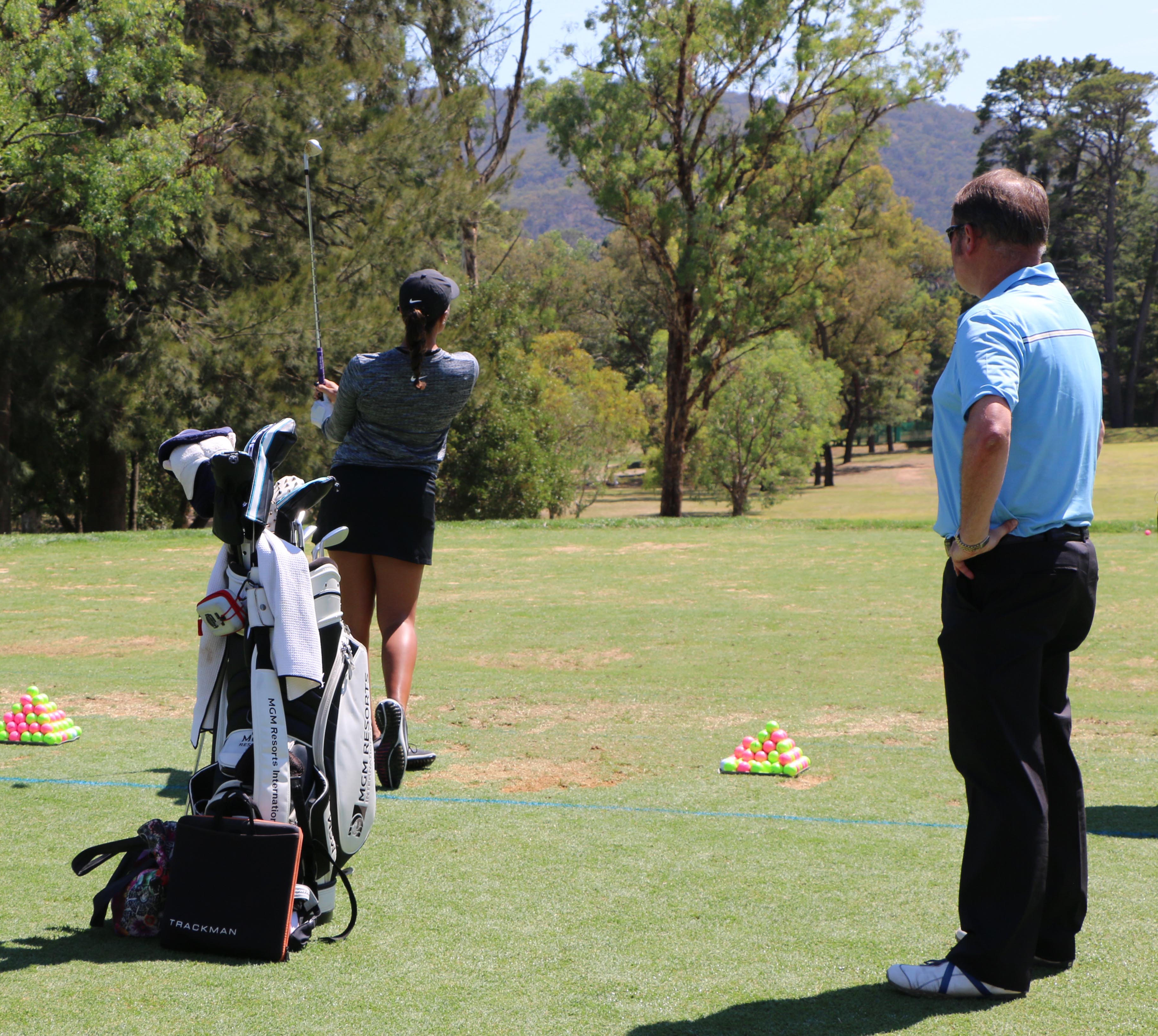 I saw it …Cheyenne Woods showed me recently she has definitely "Got" the game to play on Tour.
Someone recently advised me that I would be wrong about a certain player coming through. So much so that I actually had a $500 dollar bet that this player would not make it to a major Tour (US/European/Japan/etc). Its very unlike me to bet on anything unless its a horse called Sampson, however I do admit to being wrong about three players (Andrew "Beeeeef" Johnson, Ross Fisher and Eddie Pepperall) so I am far from a perfect tipster but If being wrong about 3 players in 28 years is anything to go by then I can assure you I have been correct with over 100+. Effectively a 3% failure rate almost gets me into Jack Welch's Six Sigma quality program. What do you think Jack ?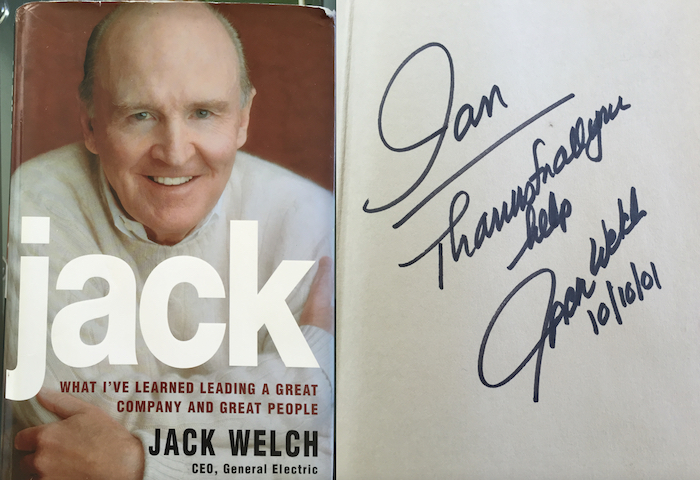 Thanks Ian…I like to think that the World's greatest ever CEO would like my player assessment skills 
So I hear you say who are the ones that didn't make it ? Well the three greatest ball strikers I have ever seen would be David Addison, David Fisher and Stephen Pullen (In that order). Each one of them equal to David Frost and Howard Clark who are the best two strikers as Professionals I have worked with and actually Howard Clark apart I would say David Addison is the purest ball striker I have ever seen. Why, I hear you say then, could these players possible not make it. The answer is now simply jumping out at me and its two words …. Brett Rumford.
I recently saw Min Woo Lee (Minjees' brother) have a discussion with Brett Rumford. Min Woo for those of you that know him, is an awesome player in his own right. He impresses me as a person and he impresses me quite a lot as a golfer. That day however it was evident he knew only 10% of what Brett Rumford knew about short game . As I watched the entire scenario unfold in front of me I realised just how far some of my own amateur players have got to go, problem here is unfortunate not many of them realise it.
So where is this all leading to I hear you say. I guess that standing behind some of the greatest players to hit golf balls has given me a pretty accurate idea of the standard required to make money from the game. However what struck me last week at the New Zealand Open is the standard is slowly but surely going up through the roof. What also struck me is just how hard these players work on their games.
For Josh Geary and Gareth Paddison Saturday and Sunday was an unwelcome weekend off. However within hours of missing the Cut both players had contacted me about Weekend practice and had figured out already what they were doing. There were a million other "nice" things to do in Queenstown, believe me and I do know players that would have been doing the "Tourist" bit on their missed cut weekend, but no as the standard moves onwards and upwards thus more and more quality work is required. You start to realise these players out on Tour "doing it" are consummate Professionals and they know what it takes. And there is your answer to the biggest difference between a successful Tour Professional and a brilliant amateur….. The Professional really knows what it takes… Now where is that man "Rummy"