Ryder Cup Star & 3 Tour Wins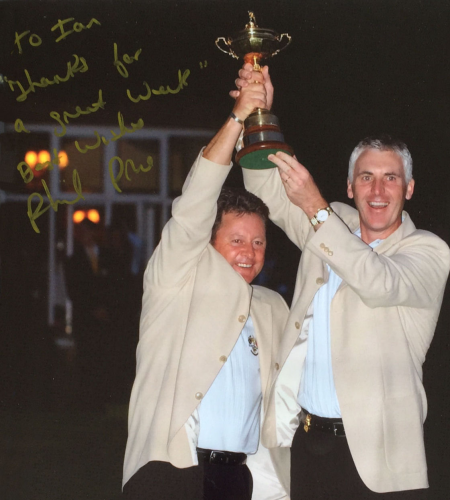 Everyone will remember the day that Phillip Price defeated Phil Mickelson in the Ryder cup! Mickelson was World No.2 at the time and "Pricey" was not given a cats chance as they say. Well the rest is definitely history.

That day I was an incredibly proud as alongside with Dennis Sheehy we had worked so hard the previous four years to get him to that point of being able to stand up and be able to beat the World's best and my office wall at home is full of memento's signed by Phil from that week.
Also the week he won the European Open in 1993 (Michael Campbell was defending) was great as we had worked very hard at Celtic Manor in the period leading up to that win and to hear Darren Clarke say that he had never seen Phil hit the ball so well really gave me a lot of pleasure indeed.
For me the most pressurised teaching situation in teaching golf is the final day before The Open. It can be even more pressure than a team event like the Ryder Cup or US Masters. Here below is a video of Phil and I fixing his putting on that "last Open practice day" and you realise as the coach that what you do is being taken into the entire week. I love The Open however sometimes I am on edge watching players teeing it up that Thursday morning.
Over a period of time I really noticed "Pricey's" ball striking going up and up and as we started to then look at his short game and putting below he really did start to put some solid performances in.
Ever the gentleman to work with and a really honest and open person. I really enjoyed working with Phil and the results speak for themselves.
I saw Phil again just the other week (Nov 2015) as he looks to get in shape for the Senior's Tour and I have to say he is still hitting the ball as well as ever. Don't be surprised to see Phillip Price take the Seniors' Tour by storm, I certainly won't be.